We at Neovora understand the difficulty facing every small business in America. Covid-19 (coronavirus) is the biggest shock to our livelihood and health in most of our lives so far.
We are certain that this crisis is temporary, but we cannot accommodate and we must always seek improvements even in hard times, so this blog aims to arm you with simple tips and steps you can take right today to communicate with your customers, acquire new ones, and come back to normalcy stronger than your competitors. We'll show how you can optimize your GMB listing to capitalize on this disaster.
How To Retain Your Existing Client base in Uncertain Times
Your Website
Your website is still the first place that existing clients and prospects will visit to see your current operating status, following these tips and updating your Google My Business status, your customers will have the most accurate information regarding your services
Ensure you have a clear message on your website homepage, that includes:
Your opening hours: There's nothing more disappointing for a customer to visit your business after searching your opening hours on the internet and discover that your info is inaccurate. If you are closed, include a statement saying so and keep your Google My Business info always up to date.
Provide contact information for emergencies: In these hard times you must have empathy with your customers and be always ready to help. Despite the human factors, you are also building a stronger and closer relationship with your customers, which will last even longer than the Covid situation
Display a process to show you are aware of the Covid-19 hygiene recommendations and how you are addressing them.
A nice way to make sure that everyone sees your message is to add a popup such as the example below: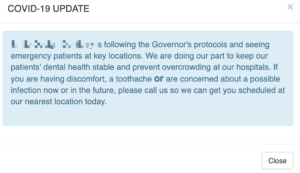 Update and Optimize Your Google My Business Listing
Prospects searching for you or your market's products are likely to come across your Google My Business Listing, like the example here:
Make sure that all your information is up to date, once many people are not visiting your website, but using the GMB listing instead. That's why it is crucial for your business to keep your info updated.
IMPORTANT: If you haven't claimed your google maps business listing – then you absolutely need to set up your google business page! Check this blog post on how to claim and optimize your listing.
Facebook Notices
The same things for GMB apply to your Facebook page. Communicate with clients in the same way. Update your status.
Email Newsletter
Don't forget you can email your clients if you have their emails. Same notifications, updates, and policy during the shutdown to inform those who have purchased with you or were once interested.
A simple image with some dialogue can go a long way:
Google Ads – Increase Your Reach
If your business is vital to the society and you are still open during this pandemic, you should be running Ads to increase your visibility. You can reach your clients by implementing some small and cheap Ad campaigns. To ensure you are having the best prices, the cheap campaigns are those which you target very specific terms that are going to generate you immediate results.
Tips for you to implement during this crisis
There are two different ways to face a situation, you may have a positive or a negative perspective. So you might look at this crisis as a huge opportunity for you to grow your business, so here are some tips you must implement to really take advantage of the Covid situation, so that once we are back to the reality, you're a step away from your competition:
Innovate with online services, make sure that you have the easiest way for your customer to get in touch with you and acquire your services. Take time to invest in an efficient online platform which is still going to be useful after the pandemic.
Take time to interact with your customers. You can do this by posting different content on your social media, reaching them by email or phone call checking if everything is fine with their family. Ask your customers about the experience they had with you and it's not a big deal asking someone to leave a friendly review on Google my business website.
Keep your customers informed and share positive thoughts!
When It's Time To Reopen
As we previously said, this situation we are living in is temporary, so we are soon going to have our lives back. Since the economy is still closed, you must have a plan to deal during the pandemic and keep improving your listing and reaching your customers, also to inform them once you're reopening.
Contact all your prospects and existing clients
As we mentioned on the "Tips for you to implement during this crisis" section, you must always keep in touch with your clients. Let them know once you're reopening and assure them you are following all the health instructions. You better be ready, cause they are probably looking forward to visit you again.
Contact all stalled business, those who had cancelled appointments, those who had to hold. Use their direct contact or any available channels. Cell, email, SMS, anything. Get them back into your door, and retake from where you had stopped before the Covid-19.
Tell your audience and community members
Update your website and all messaging
Move to a "we're opening back up message" before you open.
Include messaging on Facebook, Instagram, LinkedIn, Twitter, in addition to GMB.
Summary – How To Get Back on Track
Update your website with your current status (hours, status, policy).
Ensure your Google Business Listing is 100% current and up to date.
Use social posts to communicate to patients (let them know you are around, when you'll open, how you are handling the situation).
Prepare your re-opening statements on all media channels.
Want to get a copy of our Covid19 Survival Guide for Small Businesses? Just fill in the form below and we'll send a copy to your email.
Enjoyed this content? We have more helpful tips for you. Click here to read our blog on the benefits of an NPS Survey Tool.